This is the First Time we're making this offer! Sale ends 11:59pm, November 16, 2017.
When you purchase an eGift certificate over $25, you'll get a 10% discount code to use on your next order!
Order today!!
You pick an amount over $25.
Make your purchase.
Within 24 hours, you'll receive an email with one printable, one-time use eGift certificates with a code and the amount. Plus a 10% discount code to use on your next purchase.
You print out and give the eGift certificate to your family/friend.
They use the eGift certificate to purchase a gift at the Wallner Photography Galleries and online store. (Products include prints, framed prints, greeting cards and more.)
Questions throughout the order process, email joan@wallnerphotography.com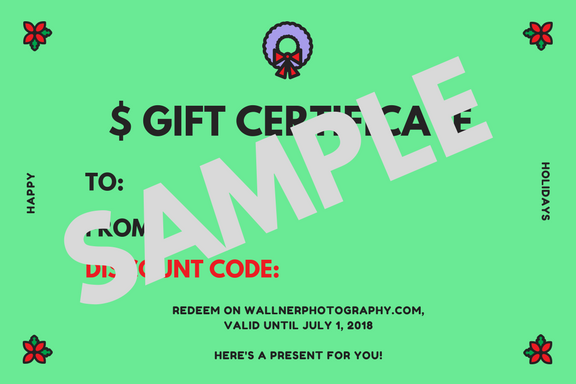 ©2016-2018 Joan Wallner Photography. All rights reserved.